The Flight Centre Schools Triathlon is organised by Restless Development, a global development organisation powered by young people.
We work with young people to lead long-term sustainable change in their local communities - and to solve problems they face, be it in health, education, employment or climate change. We work with young people and youth organisations around the world, especially with young people across the UK, Africa and Asia, to fulfill their potential as leaders, and help them help themselves in their own communities.
We are run out of hubs in ten countries across Africa, Asia and in the UK and USA, with a wider network of partners across the world. We have been working with young people since 1985 and our work is led by thousands of young volunteers and advocates every year.
Young people are incredible force for change. We see the power of youth every day, from a 15 year old Swedish girl leading a school strike for climate action with millions of people across 7 continents, to 18 year old Bibek ending child marriage in Nepal.
#WeAreRestless
Click on the image to watch our video: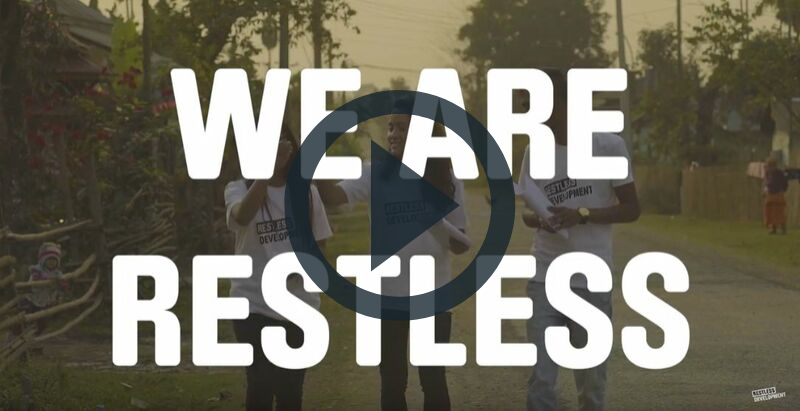 We asked
5000 young people in 64 countries
what changes are needed to tackle the big challenges in the world. Whether in a refugee camp on the edge of a conflict or trying to find employment in an urban setting, this is what they told us:
Young people want their voices heard in decisions that matter to them most, from their communities to government.

Young people want to get the skills needed to make a living and succeed in life.

Young people want ownership over the decisions that affect their bodies, health and wellbeing.

Young people want to build strong communities that work together to solve issues they care about.

With all of this power, they can lead in solving any challenges they face.
Unleashing Youth Power
There are 1.8 billion young people in the world. Half the world is under 30 and nine in ten of these young people live in developing countries. This is the largest youth population there has ever been. We are in an era of what we call
Peak Youth.
Young people are often seen as the future. We know they are more than the future, they are the today. This
Peak Youth generation
are already solving the world's greatest challenges. Climate, conflict, poverty and rights for all are affected by their decisions.
A Proven Model for Change
We have developed and tested
a model
which unleashes power at the heart of communities.
It recognises that change only happens when individuals not only deliver work in their communities, but also influence and inform society. Whether responding to an earthquake or building long-term HIV prevention in schools, real change happens when communities own knowledge, influence and control. It is the youth generation in massive numbers who are ready to achieve this:
DELIVER

Where young people directly improve lives through working in and with communities.
INFORM

Where young people create and share evidence and understanding of communities where they live and work.
INFLUENCE

Where young people change the cultural norms, policies and systems that affect people's lives. Holding decision makers to account for the promises they make.
FIND OUT MORE: